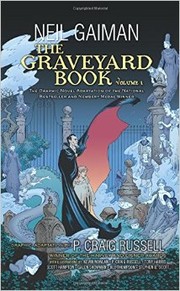 GN RUS
The graveyard book
New York, NY : Harper, an imprint of HarperCollinsPublishers, [2014]
188 p. : chiefly col. ill. ; 24 cm.
The first volume of a two-volume graphic novel adaptation of Neil Gaiman's The graveyard book, in which the orphan Bod, short for Nobody, is taken in by the inhabitants of a graveyard as a child of eighteen months and raised lovingly and carefully by the community of ghosts and otherworldly creatures. But Bod must remain in the graveyard, for leaving it could mean his death at the hands of a man named Jack--the man who murdered Bod's family.
Lexile: GN 550L
Available
Regular
1 copy available at Boynton Middle School
| | |
| --- | --- |
| ISBN: | |
| ISBN: | |
| Dewey Class No: | 741.5/973 23 |
| Author: | |
| Title: | The graveyard book. Volume 1 / based on the novel by Neil Gaiman ; adapted by P. Craig Russell ; illustrated by Kevin Nowlan, P. Craig Russell, Tony Harris, Scott Hampton, Galen Showman [and two others]. |
| Edition: | 1st ed. |
| Publisher: | New York, NY : Harper, an imprint of HarperCollinsPublishers, [2014] |
| Physical: | 188 p. : chiefly col. ill. ; 24 cm. |
| Notes: | "Two-v. graphic novel adaptation. v. one contains Chapter One through the Interlude, while v. Two includes Chapter Six to the end"--Dust jacket. |
| Citation/Refs: | School Library Journal, July 2014 |
| Citation/Refs: | Booklist starred, May 2014 |
| Citation/Refs: | Pub Weekly, May 2014 |
| Citation/Refs: | Kirkus Review, April 2014 |
| Citation/Refs: | School Library Journal |
| Citation/Refs: | Booklist starred |
| Citation/Refs: | Pub Weekly |
| Summary: | The first volume of a two-volume graphic novel adaptation of Neil Gaiman's The graveyard book, in which the orphan Bod, short for Nobody, is taken in by the inhabitants of a graveyard as a child of eighteen months and raised lovingly and carefully by the community of ghosts and otherworldly creatures. But Bod must remain in the graveyard, for leaving it could mean his death at the hands of a man named Jack--the man who murdered Bod's family. |
| Target Audience: | |
| Target Audience: | |
| Subject: | Gaiman, Neil--Adaptations--Juvenile literature. |
| Subject: | Gaiman, Neil--Adaptations. |
| Subject: | Gaiman, Neil--Adaptations. |
| Subject: | |
| Subject: | |
| Subject: | |
| Subject: | |
| Subject: | |
| Subject: | |
| Subject: | |
| Subject: | |
| Subject: | |
| Subject: | |
| Subject: | |
| Subject: | |
| Subject: | |
| Subject: | |
| Subject: | Occult fiction. |
| Subject: | Graphic novels. |
| AE:PersName: | |
| AE:PersName: | |
| AE:PersName: | |
| Call: | GN RUS |
| Link: | |
| Link: | |
| Field | Ind | Subfield | Data |
| --- | --- | --- | --- |
| 001 Control No | | | 7610 |
| 005 LastTransaction | | | 20170928091054.0 |
| 008 Data Elements | | | 140722s2014 nyua c 000 0 eng d |
| 020 ISBN | | $a ISBN | 978-0-06-219481-7 (trade) |
| 020 ISBN | | $a ISBN | 978-0-06-219481-7 |
| 035 System Ctrl No | | $a System control number | (IMchF)fol15174615 |
| 035 System Ctrl No | | $a System control number | (RICAT)843927 |
| 040 Cataloging Src | | $a Original cataloging agency | ICrlF |
| | | $b Language of cataloging | eng |
| | | $c Transcribing agency | ICrlF |
| | | $d Modifying agency | ICrlF |
| 082 Dewey Class No | 04 | $a Classification number | 741.5/973 |
| | | $2 Edition number | 23 |
| 100 ME:PersonalName | 1 | $a Personal name | Russell, P. Craig. |
| 245 Title | 14 | $a Title | The graveyard book. |
| | | $n Number of part/section of work | Volume 1 / |
| | | $c Statement of responsibility | based on the novel by Neil Gaiman ; adapted by P. Craig Russell ; illustrated by Kevin Nowlan, P. Craig Russell, Tony Harris, Scott Hampton, Galen Showman [and two others]. |
| 250 Edition | | $a Edition statement | 1st ed. |
| 260 PublicationInfo | | $a Place of publication, dist. | New York, NY : |
| | | $b Name of publisher, dist, etc | Harper, an imprint of HarperCollinsPublishers, |
| | | $c Date of publication, dist, etc | [2014] |
| 300 Physical Desc | | $a Extent | 188 p. : |
| | | $b Other physical details | chiefly col. ill. ; |
| | | $c Dimensions | 24 cm. |
| 500 General Note | | $a General note | "Two-v. graphic novel adaptation. v. one contains Chapter One through the Interlude, while v. Two includes Chapter Six to the end"--Dust jacket. |
| 510 Citation/Refs | 3 | $a Name of source | School Library Journal, July 2014 |
| 510 Citation/Refs | 3 | $a Name of source | Booklist starred, May 2014 |
| 510 Citation/Refs | 3 | $a Name of source | Pub Weekly, May 2014 |
| 510 Citation/Refs | 3 | $a Name of source | Kirkus Review, April 2014 |
| 510 Citation/Refs | 0 | $a Name of source | School Library Journal |
| 510 Citation/Refs | 0 | $a Name of source | Booklist starred |
| 510 Citation/Refs | 0 | $a Name of source | Pub Weekly |
| 520 Summary | | $a Summary, etc. note | The first volume of a two-volume graphic novel adaptation of Neil Gaiman's The graveyard book, in which the orphan Bod, short for Nobody, is taken in by the inhabitants of a graveyard as a child of eighteen months and raised lovingly and carefully by the community of ghosts and otherworldly creatures. But Bod must remain in the graveyard, for leaving it could mean his death at the hands of a man named Jack--the man who murdered Bod's family. |
| 521 Target Audience | 8 | $a Target audience note | 550 |
| | | $b Source | Lexile |
| 521 Target Audience | 8 | $a Target audience note | GN |
| | | $b Source | Lexile. |
| 600 Subj:Name | 10 | $a Personal name | Gaiman, Neil |
| | | $v Form subdivision | Adaptations |
| | | $v Form subdivision | Juvenile literature. |
| 600 Subj:Name | 11 | $a Personal name | Gaiman, Neil |
| | | $v Form subdivision | Adaptations. |
| 600 Subj:Name | 17 | $a Personal name | Gaiman, Neil |
| | | $v Form subdivision | Adaptations. |
| | | $2 Source of heading or term | sears. |
| 650 Subj:Topic | 0 | $a Topical term | Dead |
| | | $v Form subdivision | Comic books, strips, etc. |
| | | $v Form subdivision | Juvenile fiction. |
| 650 Subj:Topic | 0 | $a Topical term | Supernatural |
| | | $v Form subdivision | Comic books, strips, etc. |
| | | $v Form subdivision | Juvenile fiction. |
| 650 Subj:Topic | 0 | $a Topical term | Cemeteries |
| | | $v Form subdivision | Comic books, strips, etc. |
| | | $v Form subdivision | Juvenile fiction. |
| 650 Subj:Topic | 1 | $a Topical term | Dead |
| | | $v Form subdivision | Fiction. |
| 650 Subj:Topic | 1 | $a Topical term | Supernatural |
| | | $v Form subdivision | Fiction. |
| 650 Subj:Topic | 1 | $a Topical term | Cemeteries |
| | | $v Form subdivision | Fiction. |
| 650 Subj:Topic | 1 | $a Topical term | Occultism |
| | | $v Form subdivision | Fiction. |
| 650 Subj:Topic | 1 | $a Topical term | Cartoons and comics. |
| 650 Subj:Topic | 7 | $a Topical term | Death |
| | | $v Form subdivision | Comic books, strips, etc. |
| | | $v Form subdivision | Fiction. |
| | | $2 Source of heading or term | sears |
| 650 Subj:Topic | 7 | $a Topical term | Cemeteries |
| | | $v Form subdivision | Comic books, strips, etc. |
| | | $v Form subdivision | Fiction. |
| | | $2 Source of heading or term | sears |
| 650 Subj:Topic | 7 | $a Topical term | Supernatural graphic novels. |
| | | $2 Source of heading or term | sears |
| 650 Subj:Topic | 7 | $a Topical term | Occult fiction. |
| | | $2 Source of heading or term | sears |
| 650 Subj:Topic | 7 | $a Topical term | Comic books, strips, etc. |
| | | $2 Source of heading or term | sears |
| 650 Subj:Topic | 7 | $a Topical term | Graphic novels. |
| | | $2 Source of heading or term | sears. |
| 655 IT:Genre | 7 | $a Genre/form data or focus term | Occult fiction. |
| | | $2 Source of term | gsafd |
| 655 IT:Genre | 7 | $a Genre/form data or focus term | Graphic novels. |
| | | $2 Source of term | lcsh. |
| 700 AE:PersName | 1 | $a Personal name | Nowlan, Kevin, |
| | | $e Relator | ill. |
| 700 AE:PersName | 1 | $a Personal name | Harris, Tony, |
| | | $d Dates of flourishing | 1969-, |
| | | $e Relator | ill. |
| 700 AE:PersName | 1 | $i | Adaptation of: |
| | | $a Personal name | Gaiman, Neil. |
| | | $t Title of a work | Graveyard book. |
| 852 Holdings | | $a Location | BMS |
| | | $h Classification part | GN RUS |
| | | $p Barcode | 3020705593 |
| | | $9 Cost | $16.50 |
| | | $b Sublocation or collection | Graphic Novels : Copper |
| 852 Holdings | | $a Location | BMS |
| | | $h Classification part | GN RUS |
| | | $p Barcode | 3020708060 |
| | | $9 Cost | $19.99 |
| | | $b Sublocation or collection | Graphic Novels : Copper |
| 856 ElectronicLocat | 4 | $3 Materials specified | Cover image |
| | | $u Uniform Resource Identifier | https://covers.openlibrary.org/b/id/7305305-M.jpg |
| 856 ElectronicLocat | 4 | $3 Materials specified | Author photo |
| | | $u Uniform Resource Identifier | https://covers.openlibrary.org/a/olid/OL53305A-M.jpg |
Patron Reviews
Review by Stacia.
The book is very detailed and intresting
---
Editorial Reviews